Dommerpresentasjon Sharon Bartosh Kinney, ISSIBAA salukis, USA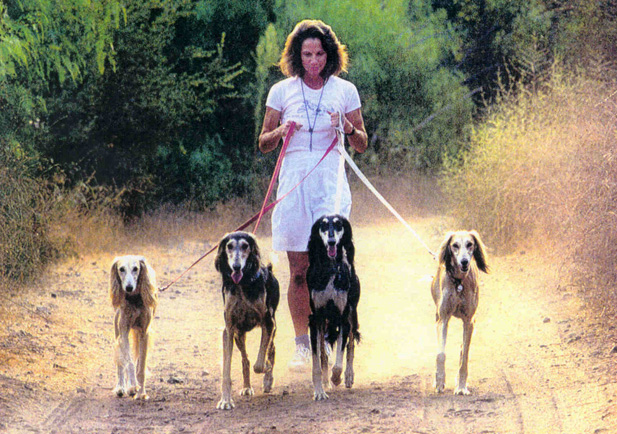 My life with salukis began in 1973 with Jen Araby Yaana. In the intervening years, I've averaged breeding a litter a year. I've produced 55 champions with many being dual titled. ISSIBAA salukis have won championships and BIS in Italy, Denmark, Germany, Japan, Canada, Mexico and USA with 35 specialties awards in the USA and Canada. Eight dogs have CD titles; 2 achieved CDX. There has been 15 lure and 7 open field champions. In 1985, I imported the English "Al Caliph" line into my breeding program. In 1999, I bred my first smooth litter. For the past 10 seasons I have once again joined the open field competition. In 2005, breed history was made by an ISSIBAA being the First smooth bitch going BIS in the USA. In 2009, another milestone was achieved by ISSIBAA saluki becoming My first dual champion (open field and specialty winning champion).
AKC licensed me to judge salukis in 1988; I'm currently licensed for 14 hounds including all the sighthounds. I've judged 8 saluki specialties in the US, Australia, Canada, Sweden, Finland, Germany and England. My pinnacle assignment was judging 367 salukis at the SCOA National in 2003.
On the personal note, my husband Jim and I have been married 46 years. Our son, Jonathan married a delightful Ohio girl in 2012.
Judging has been a constant learning experience for me. I started in salukis with several prejudices, now shattered by time and experience.
I have found high quality salukis everywhere I've judged, regardless of "type", color or feathering.
I believe a saluki should be moderate and in condition to accomplish his purpose in life. For me, a smooth body silhouette with effortless movement is the ultimate expression of what makes a saluki.
Thank you for your confidence in me to judge your specialty.
And Ladies, don't forget to schedule your Mammogram ~ it could save your life as it did mine.